Board games are especially popular here in Germany, highlighted by the
annual games fair in Essen
. So it's no wonder that a German who designed a board game based on the reforms of King Chulalongkorn named "
König von Siam
" (
King of Siam
). The author Peer Sylvester is also a co-author of a
German board game blog
.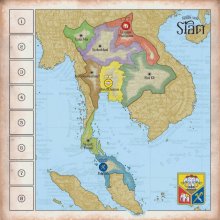 As the base story for this game, these reforms lead to a civil war of three factions - the followers of the King, the Laotians and the Malay. These then try to win as many as possible of the eight provinces into which the country was divided for this game. In one province after another a fight between the three factions is done, and in case no faction can win the British add this province to be their colony. After the eight fights, the winning faction is of course the one which controls most provinces. However, as the players don't play one of the factions directly, the winner is the player who did collect most of members of the winning faction during the game.
Am not that much into these board games, but from what I read it sounds like it can be an interesting and enjoying game. But why I am writing about this game is simply the board, the map of Siam in 1874 with the eight provinces. It was this map which I found in the Google image search. Of course these eight provinces are historically wrong, but the game author had to simplify the facts to create a playable game. The author writes in the introduction:
Heute besteht Thailand aus über 40 Provinzen, anno 1874 waren es sogar noch mehr. Folglich mußten ein paar zusammengelegt werden, um auf 8 Provinzen zu kommen. Hierbei habe ich mich ein sowohl von der Historie leiten lassen (Welche Provinzen waren damals wichtig?) als auch von ihrem aktuellen Bekanntheitsgrad.

Today Thailand consists of more than 40 provinces, and in 1874 it were even more. Thus several had to be put together to come down to 8 provinces. To do this I used both history (which province was important back then) as well as its current level of familiarity.
Actually, there are more than 70, but for the number of
Mueang
of 1876 I haven't find an authoritative list yet.
Judging from the historic importance several of the author's choices are somewhat odd. Luang Prabang (as the Lao kingdom, including Vientiane and Champassak which in 1876 were separate principalities), Lan Na and Kedah are easy choices. Sukhothai, though in 1874 way past its peak importance already, got quite a lot of Isan area attached which would better fitted under the Lao province. The choice of Ayutthaya instead of Bangkok must have been done because Bangkok sounds too modern for a historical game, though Krung Thep was capital for 100 years then already. Kanchanaburi much more well-known today than it was important in the times back then - and actually the capital of this province is located closer to Suphanburi, which was the more important
Mueang
. More deviating from the historic reality is Surat Thani, which in 1874 did not exist yet - the province center of Chaiya was further north and Ban Don was just a small village which got the name Surat Thani in 1915. Nakhon Si Thammarat (then better known as Ligor in the western maps) would have been the better choice for its historical importance. But I really don't understand why Roi Et was chosen for the province covering southern Isan and the parts of Cambodia ruled by Siam. Khorat (Nakhon Ratchasima) is the much more well-known city in that part, and it also was the most important one in the past, though at first located and named Phimai.
But I am of course nitpicking - the important thing for a board game is not its historical accuracy, it is how much fun it creates for the players. As I haven't bought this game yet it's nothing I can judge.